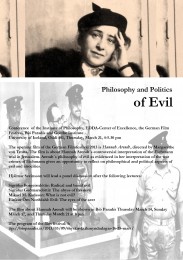 On Thursday March 21 the Institute of Philosophy at the University of Iceland, EDDA – Center of Excellence, the German Film Festival, Bíó Paradís and Goethe Institute will host a symposium titled "Philosophy and Politics of Evil". The symposium  will take place at the University of Iceland, Oddi building, room 101, at 16:00-17:30.
The opening film of the German Film festival 2013 is Hannah Arendt, directed by Margarethe von Trotta. The film is about Hannah Arendt's philosophy of evil as evidenced in her interpretation of the war crimes of Eichmann gives an opportunity to reflect on philosophical and political aspects of evil and atrocities.
Hjálmar Sveinsson will lead a panel discussion after the following lectures:
Sigríður Þorgeirsdóttir: Radical and Banal Evil
Sigríður Guðmarsdóttir: The Abyss of Freedom
Mikael M. Karlsson: What is Not Evil?
Eiríkur Örn Nordahl: Evil: The Eyes of the Seer
The film about Hannah Arendt will be shown in Bíó Paradís Thursday March 14, Sunday March 17, and Thursday March 21 at 20:00.