Report by Stefán Andri Stefánsson and Stefán Ólafsson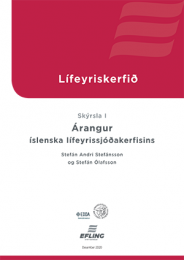 The report is a part of a larger study of the Icelandic pension system, which consists of a public social security system and occupational pension funds, in addition to individual pension savings accounts.  
This report concentrates on the occupational pension funds. A forthcoming report will deal with adequacy of pensions in Iceland, focusing specifically on the interactions between the social security system and the occupational pension funds, by means of an income-testing mechanism in the public system. 
The reports are published in collaboration by EDDA Research Centre and Efling labour union.
The present first report compares the performance of the Icelandic occupational pension funds in comparison to pension funds in the OECD-countries, such as growth of assets, investment strategies, capability to deliver on pension promises and administrative costs. 
The reports are in Icelandic and can be examined and downloaded on www.lifeyriskerfid.is.