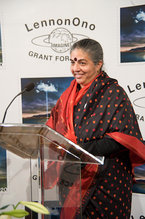 On Monday 29 August at 5 pm, Vandana Shiva will give a public lecture in Háskólabíó. She is internationally known for her work on the environment, sustainable development and human rights. In relation to her visit, three documentaries about important issues in the field of biotechnology and genetically modified organisms will be shown in Bíó Paradís:
On Thursday 25 August at 8 pm: Seeds and Seed Multinational. The documentary focuses on Vandana Shiva´s fight against the sale of genetically modified seeds in India by multinational corporations and its effect on small-scale farmers and their lives.
On Saturday 27 August at 8 pm: Life Running Out of Control. The documentary addresses the issue of genetically modified plants by large corporations and the critique raised in relation to the production of such plants by small-scale farmers, activists and scientists.
On Sunday 28 August at 8 pm: Scientists Under Attack. The documentary tells the story of scientists whose research findings have been critical of the biotechnical industry, and who have been targeted by multinational corporations as a result.
For more information, see the website of Bíó Paradís.