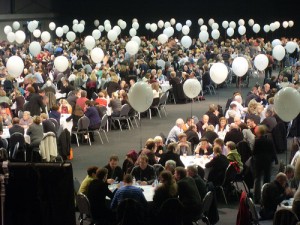 EDDA – Center of Excellence at the University of Iceland, in collaboration with Raymond Aron Center for Sociological and Political Studies (CESPRA) at the Institute of Advanced Studies in the Social Sciences in Paris (EHESS), will host an international conference entitled In/Equalities, Democracy and the Politics of Transition. The conference will take place on 10-12 May 2012 at the University of Iceland. The conference is open to all and free of charge. 
The conference will focus on the following topics: democracy and collective decision-making; constitution-making and the Icelandic Constitutional Council/Assembly; in/equality, well-being and politics; political participation, and popular mobilization; transitional justice and engagement with national pasts and national narratives, political cultures and institutional morality.
Within the context of the political, cultural and social responses to the current global economic crisis, the aim of the conference is to bring together academics in the field of politics, philosophy, history, literary criticism, and law to discuss problems of societal transitions from various thematic and national perspectives. Special attention will be devoted to democratic experiments, political participation and reconstruction discourses, which is the subject of a joint research project between EDDA and EHESS.
Conference participants will include:  Ruti Teitel, Ernst C. Stiefel Prof of Comparative Law, New York Law School; Bernard Manin, Professor of Politics at New York University and Professor at EHESS; Sylvia Walby, Distinguished Professor of Sociology, Lancaster University; Lucy Allais, Associate Professor of Philosophy, University of Sussex and the University of the Witwatersrand; Philippe Urfalino, Director of CESPRA, Professor at EHESS and senior researcher at CNRS; James S. Fishkin, Professor of Communication and Political Science, Stanford University; Jon Elster, the Robert K. Merton Professor of Social Sciences, with Appointments in Political Science and Philosophy at Columbia University and Professeur Titulaire at the Collège de France;  Pasquale Pasquino, Distinguished Professor of Law and Politics at New York University and senior researcher at CNRS;  Yohann Aucante, Lecturer/Researcher at EHESS in Paris; Dave Brady, Associate Professor of Sociology, Duke University; Helene Landemore, Assistant Professor of Political Science, Yale University.
Organizing Committee:
Irma Erlingsdóttir, Director of EDDA – Center of Excellence
Valur Ingimundarson, Chair of the Steering Board of EDDA – Center of Excellence and Professor of Contemporary History at the University of Iceland
Jón Ólafsson, Professor of Philosophy and Vice-Rector of Bifröst University
Philippe Urfalino, Director of CESPRA, Professor at EHESS and senior researcher at CNRS
The conference is sponsored by EDDA – Center of Excellence, The Institute of Advanced Studies in the Social Sciences in Paris (EHESS), the City of Reykjavik, and the French Embassy in Iceland.
The Conference is organized into 7 panels:
Panel 1: The Icelandic Constituent Assembly/Council: Assessments and Comparisons
Thursday 10 May, 10:00-12:00, Askja Building, Room 132
Constitutional rewriting in Iceland can be seen as a transitional mechanism or a way of introducing new political and democratic processes. The election and subsequent appointment of a Constitutional Council/Assembly, the appointment of a Special State Prosecutor and a Special Investigation Commission as well as the current criminal proceedings against a former Icelandic Prime Minister—who became the first Western political leader to be tried over the global financial crisis—reflect attempts to come to terms with the consequences of the financial collapse. The Constitutional Council has put forward a new constitutional reform bill, with provisions for a new electoral system, public ownership of natural resources, different mechanisms for the appointment of public officials, and the independence of state agencies. The panel examines this experiment from different, political, judicial, and historical angles.
Panel 2: Transitional Justice: Historical and Contemporary Cases
Thursday 10 May, 13:15-14:45, Askja Building, Room 132
Transitional justice has become a normative vehicle for addressing issues of responsibility and culpability for societal breakdowns and for "coming to terms" with the past. Prosecutions, trials, truth commissions, lustrations and purges have been used to deal with a troubled and/or violent past as well as condemnation and reconciliation between warring parties. It has been argued that judicial channels—even if playing an important role in the narrative—can never be fully adequate for political stabilization or for creating a path towards reconciliation. The purpose of the panel is to explore various representations of transitional justice and the politics of memory in several different countries—such as South Africa, Chile and Iceland—as a result of political and societal ruptures.
Panel 3: Gender, Well-Being and Poverty
Thursday 10 May, 16:15-18:15, Askja Building, Room 132
In recent years, an increased awareness of the importance of broadening the prevailing understanding of well-being of populations has gained momentum. It signifies an attempt to move away from the narrow economic focus on GDP and related indicators. The welfare state as an institutional feature of modern societies has also been under strain and subject to revisions for some time, not least due to changes in the political environment. That trend is likely to be furthered by the growing crisis-related emphasis on various austerity measures, many of which can erode welfare state provisions and resources. Recent scholarship indicates that this restructuring of public expenditure under the rhetoric of austerity is resulting in unevenly gendered social and economic effects.These developments can, therefore, risk equality and welfare achievements from previous decades. At the same time, the living conditions and risks have changed with the new global environment and other changes, making older institutional structures perhaps outmoded.

Panel 4: Consulting Crowds I: Deliberative Ways of Improving Policy- and Decision-Making
Friday 11 May, 09:00-12:00, Askja Building, Room 132
For the last two decades, experiments in democracy, which aim at using deliberative and participatory methods of public decision-making, have brought notable results. Participatory budgeting has shown that even complicated decisions can be made outside of traditional parliamentary or assembly structures, and deliberative polling suggests that under the right circumstances discussion and increased knowledge can have a considerable effect on public opinion. This panel explores democratic experiments and the ways in which disappearing trust in traditional political methods can be answered by increasingly relying on different kinds of crowd-sourcing.
Panel 5: Consulting Crowds II: Challenges to Collective Decision-Making
Friday 11 May, 13:15-16:00, Askja Building, Room 132
It is often argued that a deliberation, at least if done in a proper fashion, improves democratic decision-making, moving it closer to a standard of correctness, when the goal is to reach solutions that actually promote the common good. Deliberative democracy, however, does not automatically or obviously lead to such a result. Even if deliberation seems to effect changes in views, attitudes and opinions, it does not follow that such changes are for the better. The workshop explores the strengths and shortcomings of deliberative, participatory and epistemic approaches to democracy.
Panel 6: Political Participation, Popular Mobilization and Protest Movements
Friday 11 May, 16:30-18:00, Askja Building, Room 132
Social theorists have long shown interest in studying the societal circumstances triggering mass protests, revolutions and paradigm changes. Some suggest that widespread subjective deprivation caused by abrupt social changes, including economic crises, often produces such events. Others emphasize that mass mobilization reflects ongoing conflict between social groups or ideological viewpoints and propose focusing on how sudden changes provide opportunities and resources for some groups to mobilize. In the debate, the term civil society has played a key functional role in generating social trust among citizens, which is seen as being necessary for civic engagement and vibrant democratic institutions. This panel concentrates on mass protests triggered by the recent global economic crisis, including a discussion of the capability of different movements of civil society to act strategically as a counterpart to the old system in processes of societal and political change.
Panel 7:National Narratives and Political Cultures
Saturday 12 May, 10:00-12:00, Askja Building, Room 132
Political and economic crises often spur debates over collective identities, social reckoning and cultural and ethical values. It can also involve both the rethinking of social conflicts in light of transnational and multicultural encounters as well as the entrenchment of the national in the face of external and internal adversity. This panel explores, critically, Icelandic attempts to frame national and cultural narratives in response to the financial crash.