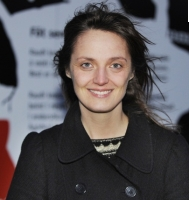 Tinna Grétarsdóttir,  Postdoctoral researcher
Email: tgretarsdottir@gmail.com
Crisis and transitions of creativity: (trans)national cultural politics and pragmatic defence
The research project deals with societal transitions by examining the intensification of neoliberal values and corporate nationalism in Icelandic cultural politics in the 1990s and 2000s. It sheds light on these changes and their consequenses within the art world which has increasingly complied with utilitarian agenda and defended itself in context of societal and economic pragmatism.  Art, often referred to as the "creative industry", is increasingly associated with tourism and marketing agendas—which are governed by state and marketing agents, administrators, planners, and entrepreneurs, all of whom favor outcomes such as transnational networking, the marketing of culture, the remodelling of national identity, and image enhancement. The project elaborates the conflicting and competing discourses, agencies, and experiences of (trans)national cultural politics, and raises questions as to what presuppositions are built into artistic activities, values, and ambitions. It reflects upon the notion of creativity in times of crisis and reconstruction.
Research Field and Areas: The project's field of research is located in visual anthropology but cross-sects with disciplines like art, cultural studies, tourism studies, sociology, museum studies, and political economy. The project directly relates to EDDA's goals overall, but particularly to Research Area I (The Politics of Transition).
Keywords: Art, neoliberalism, (trans)nationalism, nation-branding, tourism, creativity, cultural politics, ethnic identities, crisis and reconstruction, and ethnography.