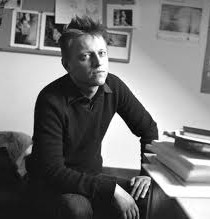 Kristinn Schram, Assistant Professor in Folklore and Museum Studies, School of Social Sciences, University of Iceland
Email: kristinn@akademia.is
Research Project: Borealism and Beyond
The research project focuses on transnational power politics on the level of everyday life before and after 'the  crash (Icel.: hrun)'.  Seismic transnational, socio-economic developments can charge the liminal space of 'foreignness' with various shifting dynamics.  One of these dynamics include an illusive set of images of an exotic North (in a word: Borealism) enveloping, among others, Icelanders and their practices at home and abroad. These images incorporate representations in film, art and music but also coverage of aggressive Icelandic business ventures and the disastrous collapse of the Icelandic economy.  Research among people in the midst of these processes, such as bankers (or 'venture vikings'), artists and students abroad, offers insights into the experience and folklore involved in these developments and the images attached to them. Ironic performances of folk culture, and seemingly archaic foodways, are an integral part of this.  Carrying further his doctoral research the project manager, along with co-researchers from the Icelandic Centre for Ethnology and Folklore and the University of Iceland, will elaborate on the practice and appropriation of tradition, the images of Icelanders and contested ideas of the North in relation to national, cultural and gender identities and transnational interaction.  The project is funded by EDDA, ICEF, Rannís and the Reykjavík Academy.
Project partners: Katla Kjartansdóttir, the Icelandic Centre for Ethnology and Folklore (ICEF), The Reykjavík Academy; Edda – Centre of Excellence.
Research Field and Areas:  The research field envelopes the multidisciplinary crossroads of folkloristics and ethnology; performance, nationalism and media studies; as well as the study of images. The project interfaces with most of EDDA's research areas  – particularily within Area 1  but also with cluster 4: Economic Crisis and the Quality of Life (within Area 2) as well as cluster 6: The Geopolitics of Climate Change, Representations of the North and Regional and Human Development (within Area 3).
Keywords:
Transnational performance and images; exoticism and appropriation; folklore and power; gendered and national identity; film, media and everyday life.